21 days ago, I brewed a new recipe, inspired by BJs' Jeremiah Red: an Irish-style Red ale which I'm dubbing Irish Red Dawn, for reasons that are a bit mysterious, even to me... Today is bottling day. I left it quite a while in primary, longer than perhaps I should have, but it hasn't been convenient to bottle until today, so here we are... There was a time for me, many years ago, when the presence of an empty vodka bottle on the counter meant that a good party time was had the night before!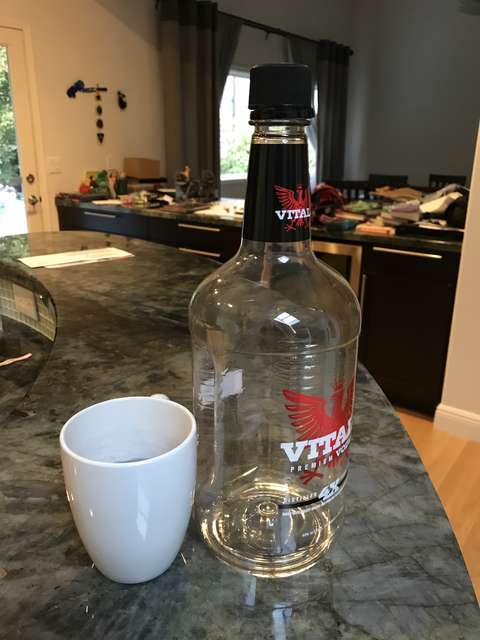 Nowadays, vodka means... Bottling day! See, I use vodka to sanitize my bottle caps, since sanitizers like StarSan do a number on the lining of the caps...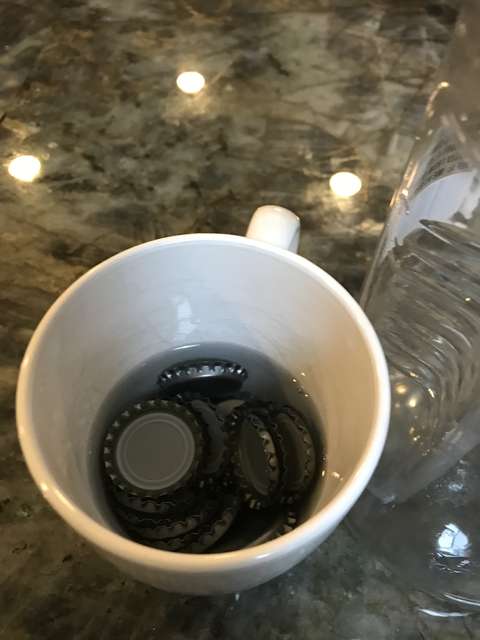 Bottling went smoothly, and wifey helped out, as she usually does, with the actual bottling (it's hard to start the siphon, with the bottling wand depressed, and pumping the auto-siphon, with only one person). There was plenty of beer this time, enough for twelve 12-ounce and eight 22-ounce bottles, and still two pint glasses for later tasting, and a generous guzzles of the dregs from the bucket. (And yes, guzzle I did!) The cleanup went fairly smoothly as well, although the fermentation keg is still soaking in hot water, waiting for me to attend to it as I write this. (Keg cleaning is one of my least favourite activities...) The brew is still young, and needs to condition in bottles for a bit - both to "rest" and to carbonate - but my impression so far is that this is a decent Irish red, and might become a better one with a few tweaks to the recipe. I'm going to try an American ale yeast next time, rather than the Irish ale yeast I used; so far, I just prefer the flavours imparted by American ale yeasts, and there is a definite tang to the UK yeasts that does not impart my intent on this one. Also, I'll tone down the darker malts, as this came out far too dark for the style, and there is too much of the chocolate malt flavour as well. But hey, experimentation is always useful, and this has the makings of a good brew, once properly tweaked.
#Bottling
#RedAle
#IrishRedDawn