We were on an RV voyage in eastern Canada, enjoying the fall colours, and happened upon this brewpub called the Microbrasserie Saint-Arnould, in Mont-Tremblant, Quebec.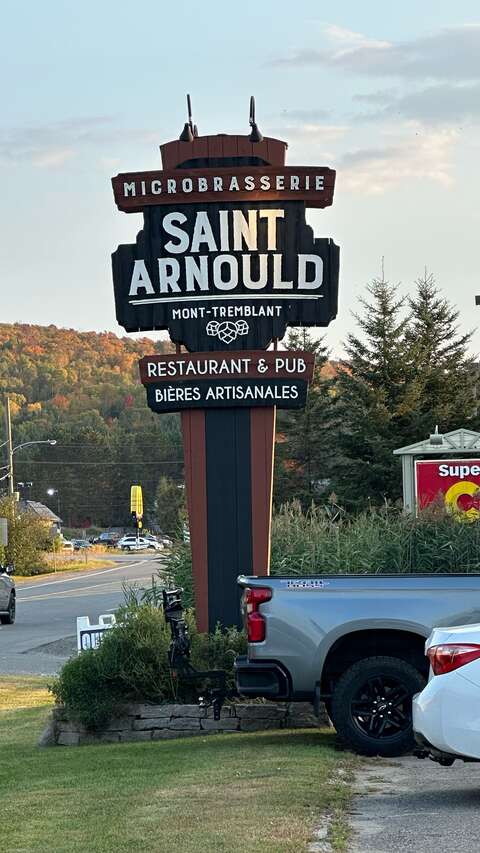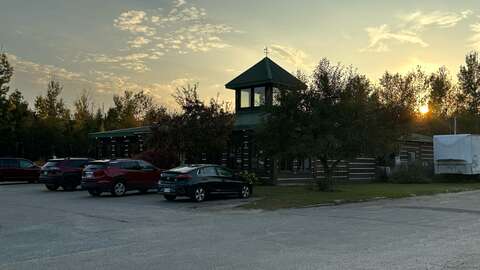 When we arrived, the song "Freewill" by Rush was playing on the house music system. Nice! Great first impression for this Rush fan! Even though the place was almost empty, it managed to have a lively feel. We were swiftly greeted and seated by the barmaid, whose English was about as good (erm, or not) as my French, but between the two of us, we managed to understand each other. Typical brewpub feel, wooden tables scattered throughout, and a sparsely-populated bar facing the entrance. We sat by a window, looking out onto the dusty parking lot and nearby freeway. Ambience was a bit bland, but the music was good, and our server friendly. I ordered a flight (me: «avez-vous une, erm, 'flight', des bières?» (making the motion of placing several small beer glasses in a line), server, slightly bemused, but enthusiastic: «Une plate, oui!»), which is a pre-chosen selection; my French is insufficient to ask if I could customize, but my guess is that they only do the house selection…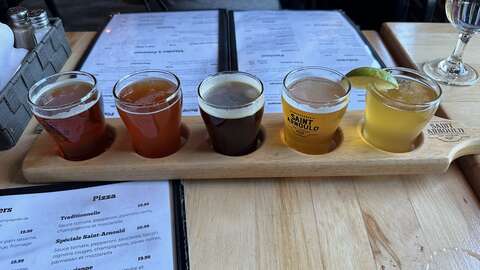 Since this is a brewery review, I'll start with the tastings, and my thoughts on the beers:
Muchacha - Blonde Lager - Mexican-inspired, 4%, 16 IBU - Served with a wedge of lime, quite serviceable modelo clone, no aroma (aside from the lime)
P'tit Train - Pale Ale - Blonde, claire avec une finale sèche et houblonnée, 5.5%, 35 IBU - piney, but mildly so, no nasty simcoe, just pine and stone fruit, little nose, soft mouthfeel
Rivière Rouge - Toasted Red Ale -Équllibre parfalt entre caramel et orge grillé, 5.5%, 30 IBU - yummy caramel and toasted marshmallow aroma, taste to match, with roasted malt aftertaste, yum!
Marie Framboise - Raspberry Ale - Bière de blé brassée, avec des framboises, 5%, 16 IBU - no nose, sparkly mouthfeel, raspberry sourness, bland underlying ale, but definitely drinkable
Vlimeuse - Strong Smooth Bitter - Bitter forte, pétillante, riche et générouse, 6.2%, 28 IBU - tasted like a dark lager, but with ale yeast taste, definitely malt forward, but with a good bitter hop bite
For dinner, I had the German sausage platter («Saucisses des Deux», i.e. "a pair of sausages") — one Oktoberfest and one Debriziner — served atop sauerkraut, which came with a steamed veggie medley and the ever-ubiquitous fries. Yun had 8 chicken wings and a Caesar salad. I particularly enjoyed the debriziner sausage, the sauerkraut with chunks of bacon, and the delightful horseradish mustard (similar to Dijon, but with the horseradish kick) with which the sausages were served; it made for a good dish. The rest was reasonable, but nothing about which to write to the proverbial home.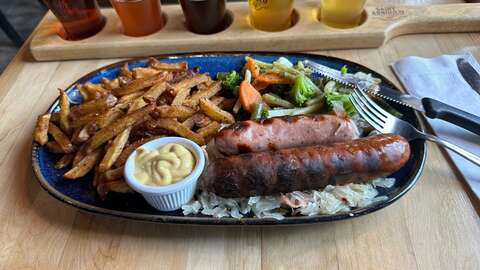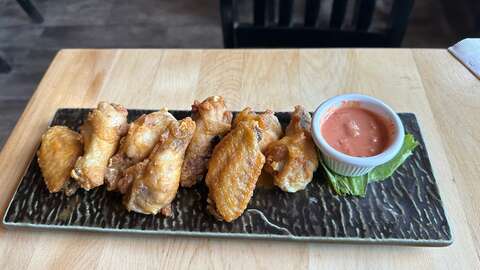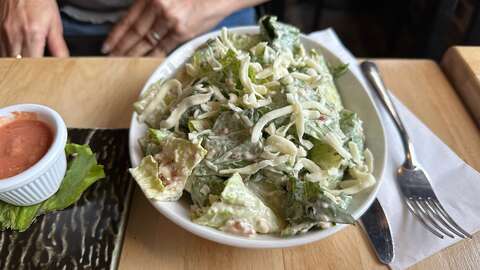 We got some desserts to go: an order of cheesecake and a small apple tartlet. These were just ok, the cheesecake was very dry, and the tartlet sauce far too sweet for my liking. Still, not bad, just room for improvement…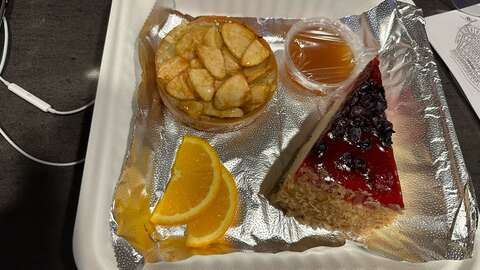 While we were dining, an assortment of other slightly-deep (not quite shallow?) classic rock cuts played over the house sound system: "Godzilla" by Blue Öyster Cult (woo-hoo! "History shows again and again how nature points out the folly of man", still as true today, if not more so!), some forgettable song from Boston's (equally forgettable) last (I think? (ed: third, actually)) album, "Hey You" by Pink Floyd, "Bargain" by The Who, "Ina Godda Davida" ("In The Garden of Eden") by Iron Butterfly, "Blinded by the Light" (the non-Springsteen, better version (later me: that would be Manfred Mann's version, you dolt!)), and, disappointingly, "Two Tickets to Paradise" by Eddie Money (blech!), as well as 3 or 4 other songs I didn't note down or didn't hear clearly enough to identify. Not a bad playlist for a bar… Overall, this was a pleasant dining experience.
#BeerReview
#Travel