I've always liked the external aesthetics of this building. It kind of declares itself a "modern brewpub", even if you missed the signage. But we had always been cruising by in the past, and I had not had the opportunity to visit, until now…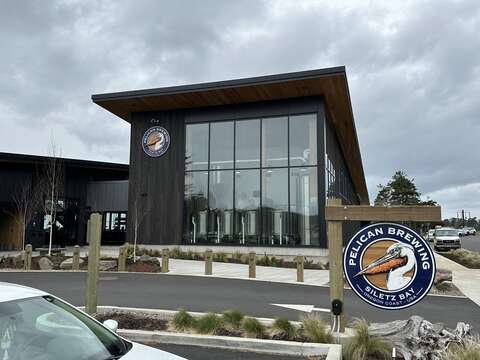 It sits in a large building with a charred wood look (probably just matte paint?). The inside is kind of an industrial look (as is chique for brewpubs nowadays), with lots of large glass windows overlooking the mudflats of the bay. Nary a pelican in sight out of those windows…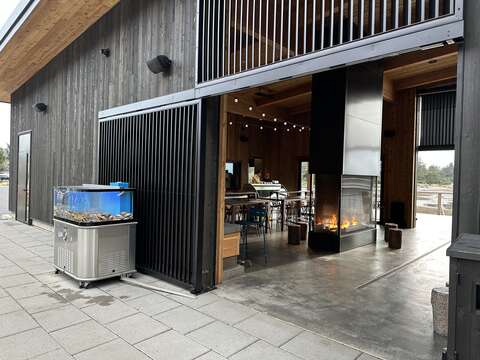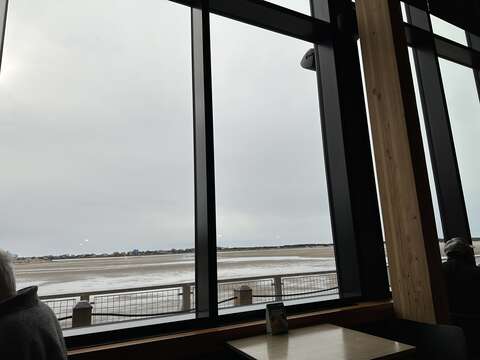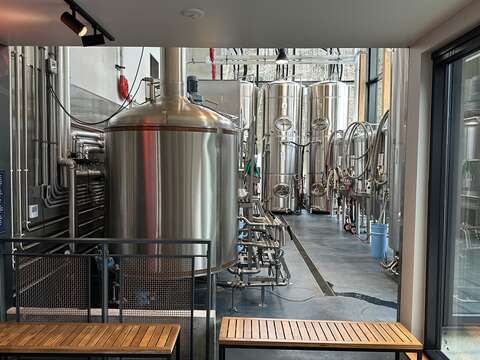 The bar was "in the round", with the bartender in the middle, and seats around. This contributed to an open feel to the place that was pleasant, and lessened the coldness associated with the quasi-industrial aesthetics. Music piped in was only slightly dated pop music (RHCP tune made their playlist, but so did Coldplay, as well as Wheezer's Islands in the Sun), but it wasn't obnoxiously loud or anything, and the overall volume level of the restaurant was relatively subdued. Our server brought us free samples of their "Sparkle Hops", which is just fizzy water infused with hop essence. They seem to be really pushing that, and I guess that makes sense since it's a fad going around, and it's cheap for them to produce and sell at a significant markup. Whatever, it tastes OK, but I'm here for beer, so… They only served a fixed flight, ie their choice, not mine. That's a shame since they have a boatload of beers I would like to try. I really don't understand that choice, other than that they already have flight serving ware with the specific brews on the central pelican. A custom flight really should be an option at any brewpub, but it isn't here, so we shall see what we get.
Kiwanda Cream Ale - Carbonated and light and refreshing, thin mouthfeel, no significant aroma. Very drinkable and refreshing, a good starter.
Head Out Hefeweizen - Pretty standard heffe, quite drinkable.
Updrift American IPA - strong piney nose, very citra-like taste, not too bitter. As always, I'm not a huge fan of the citra…
Beak Breaker Double IPA - citra and simcoe (?), heavy on the pine. Again, not my favorite…
Sea'N Red Irish Red Ale - malty nose (falcon? heh…), malt-forward, good hops, slightly syrupy mouthfeel, but in a good way; this is a nice one!
Tsunami Stout - chocolaty, notes of toffee and slight roasted coffee, thicker mouthfeel; yum!
Cape Crasher IPA (Seasonal) - orangey aroma, very citrusy, a bit hazy. Not really a NEIPA, but definitely juicy and a bit hazy. Good, but not really my thing.
Super-Swell Double Pilsner (Seasonal) - sweet, almost honey-like aroma. Sweet bready taste, with just the right noble hop mix. Quite good, and good warmth of alcohol.
Elk burger was great, with bleu cheese and garlic aioli on a nice light brioche bun. The menu said a spent grain bun, but there's no way that was a spent grain bun… I asked the waitress if she is sure they used the spent-grain bun (rather than substituting), and she said, "Yes, they use the hops from brewing!" (Erm, no, they use the grain, and that wasn't a spent grain bun…)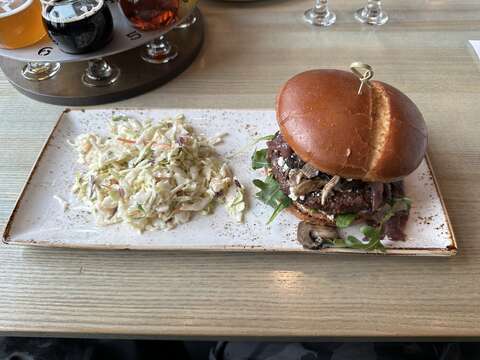 My wife's tri-tip was tough, but excellent tasting. The cheddar mash it came with was ok, if a bit bland. Both ours came with cole slaw, which was pretty standard stuff, certainly not adventurous, but it fits the bill.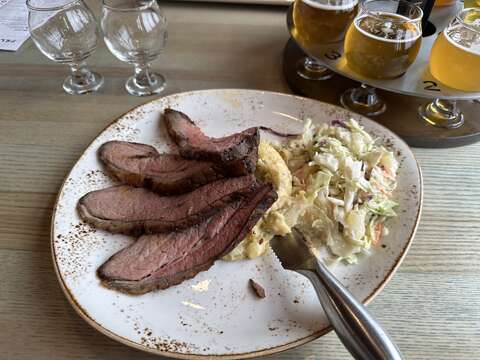 Dessert was a marionberry buckle, kinda half cake, half compote, with a generous scoop of ice cream on top. Pretty good, as I like marionberries. The decision to not allow custom flights is a poor one, in my opinion. I would have chosen different IPAs for my custom flight, and chosen their other stout, and their flagship Pelican Pilsner, but alas… One final note was the bathrooms… Their take on all-gender bathrooms was a front section of coed sinks, which then led to a hallway of small toilet-rooms (each with a door). This was the first time I had experienced a setup like this; it makes a lot of sense and is a good compromise on space. Also, the sink was a single long trough with a drainage slit in the middle, and the faucets were these protruding angular trident like things: the middle was an automatic faucet, and the side-tines were blow driers to dry your hands. Very cool, actually.