We took an RV trip to drop off my younger son at college in Ohio, and found ourselves in Mt Vernon, where my wife and he had (while touring a different college) eaten dinner at a local brewery. Since it was after lunch and we were hungry, we decided to visit that same brewery, the Stein Brewing Company. I managed to street-park the RV "like a bowss" (as the kids say?), within sight of the brewery, and we got a table by the window. The decor and atmosphere was rather out of a playbook for modern brewpubs: dark paneling, industrial-adjacent signage complete with a gear, dark wood wainscoting, etc. I've seen it all before, but it's not an unpleasant cliché, just a well-worn one.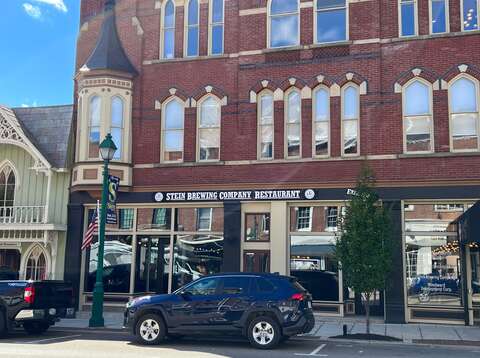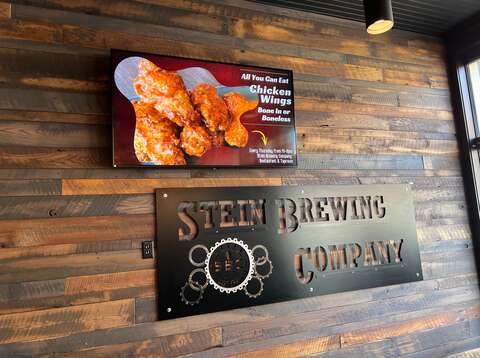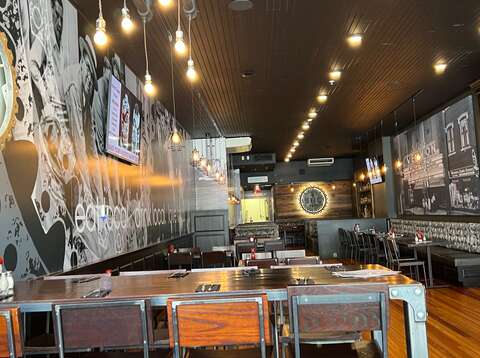 It turns out that their brewery is quite small, and the majority of their beers on tap are from other breweries. Regardless, since we were currently traveling with my older son as well, he and I figured we could tackle the "full flight" of all 10 beers (only three of which were brewed on site).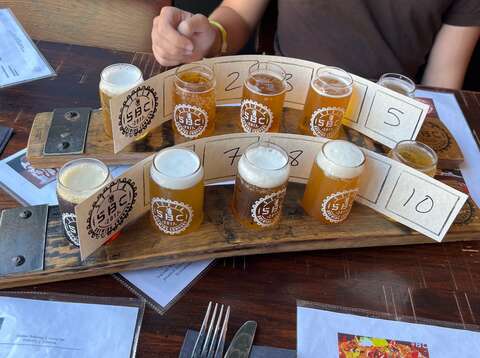 Following are my notes on the beers, in some cases augmented or reinforced by the opinions of my older son as well.
Melvin Killer Bees (Honey Beer) - very light and clean tasting like a lager, slight honey smell but not really any taste of it. Quite good, and quite drinkable.
SBC (Ohio) Becca Kolsch - yup, it's a Kolsch, not very exciting, funky on the nose, but no head at all. It's ok...
SBC (Ohio) Becca Blueberry Kolsch - add some blueberry pancake syrup aroma to the above. Very (very) slight aftertaste of blueberry as well. Really nothing to write home about, and yet here I am, writing about it...
SBC (Ohio) Sweep the Leg (American Light Lager) - I was expecting Budweiser, but this was actually pretty tasty. Slightly soapy nose, but good noble hop taste.
Millersburg French Ridge IPA - decent IPA, stone fruit and cat pee (simcoe) nose and piney taste. Not awful, but not very adventurous.
R.Shea Downtown Nut Brown Ale - Yum! Brown sugar and caramel on the nose, beautifully malty and sweet taste, brown sugar aftertaste. I very much liked this one.
Masthead Superior Wit (Witbier) - slightly sweet, bitter, with a wheat beer nose (unsurprisingly)
Goodwood Brewtus Blonde Ale - no real aroma to speak of, piney, slightly soapy taste, funky aftertaste.
New Holland Tangerine Space Machine (NEIPA) - aroma: cat pee galore! Very citrusy taste with definite tangerine notes, and stone fruit and hop aftertaste. Not a fan of the simcoe aroma, nor NEIPAs in general if I'm being honest, but the taste is ok for a NEIPA.
McKenzie's Hard Cider Pumpkin Jack (Herbed Cider) - super-yum! Pumpkin spice aroma and taste, with a delicious cider base. Gluten-intolerant wifey liked this one as well; it got the unanimous thumbs up at the table. While pumpkin spice in beer is an over-used trope, I really think it works well in a cider!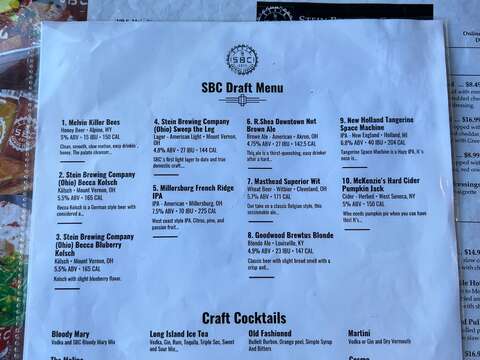 For food, I had their chili and a BLT with cole slaw, and my wife had their boneless chicken wings (gluten-free, allegedly). It was a quite surprisingly boring chili almost devoid of any heat or spice, with white beans and corn, and lots of cheese on top. The cole slaw was delicious, very creamy. The BLT itself had a ton of very dry and crispy (burnt) bacon, but was otherwise unremarkable. I guess we can surmise what the Midwest culinary scene is all about...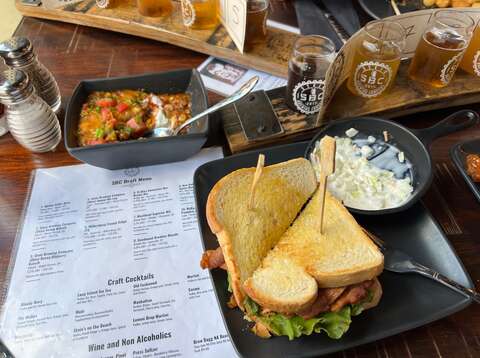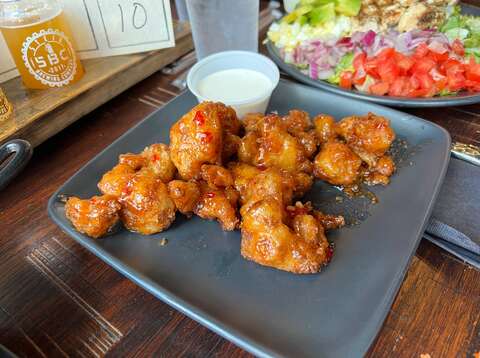 The service was excellent: friendly, attentive, prompt. I got a peek of their very tiny brewing operation, with three fermenters and/or bright tanks. I suspect that the mash and liquor tuns are in another room? Either that of this is just for show and the real brewing is done off site or by contract. Not clear.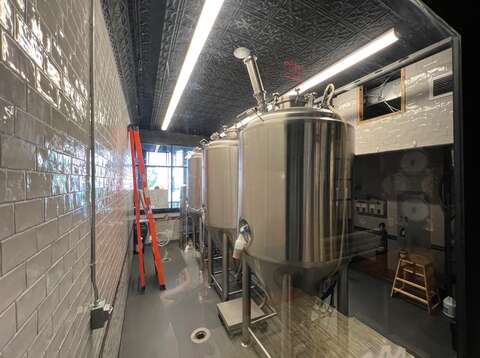 Generally decent, but nothing earth shattering. I wouldn't go out of my way to go there.
#BeerReview
#Travel