During a cross country trip, we stopped in Laramie, Wyoming for lunch, and after finding out that our usual Laramie haunt (the Prairie Rose) wasn't open for lunch on Sunday, we drove around until we spotted a place that was open: the Coal Creek Coffee and Taproom, a funky little corner side place down near the tracks in downtown Laramie. There was another place across the street, but this place caught my eye more, so we went there. First off, I think a lot of places around this area are compensating for Laramie's history, because they have gay pride flags all over the place. That's just grand by me, and if they are compensating, I say compensate away; there is a lot of ground to be made up due to that one hateful and tragic event in the town's history.
Anyways, this place had a fun, young vibe. There are two sides: coffee shop and taproom. They brew their own beer, which is cool, some taprooms are just serving spots for other local breweries.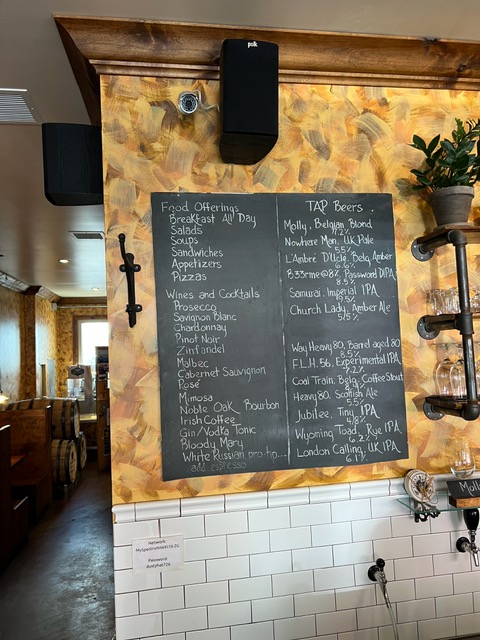 The taproom side was small, because the brewery took up the back half, so just the bar and stools, and one row of window-side tables.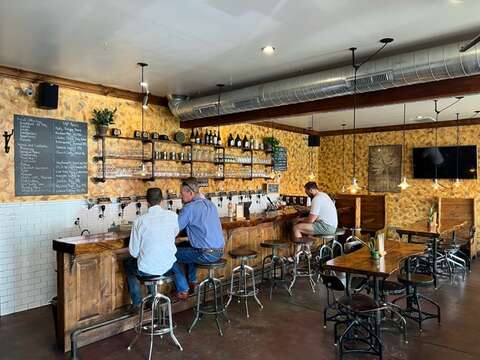 I didn't realize that they were a brewery at first, so I ordered a pint of the amber. Once I knew they were a brewery, I ordered a flight...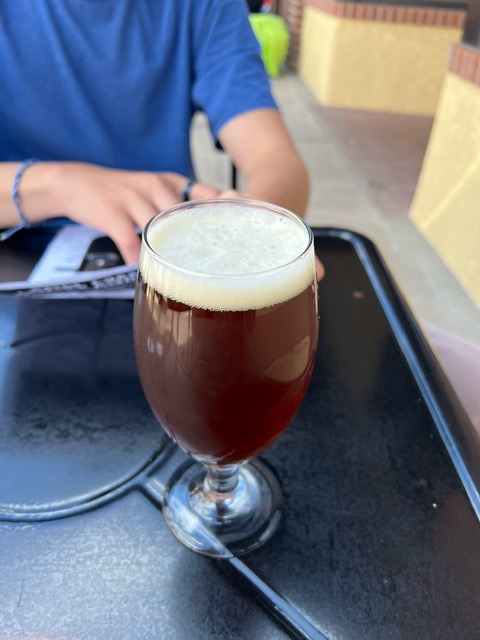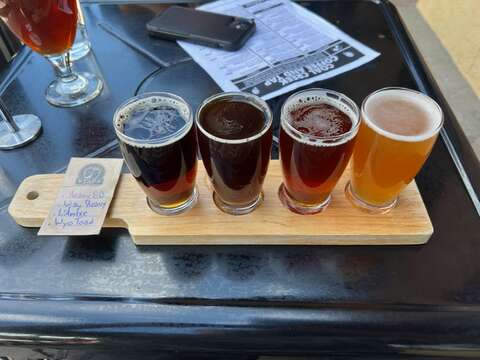 Here were my impressions, in the order of tasting recommended by the experienced bartender woman, who was also training our bartender (it was her first day, and she did great as well!):
Church Lady Amber Ale - very nice amber, good malt character, with a mild, well-balanced hop taste, probably old world hops
Heavy 80 Scottish Wee Heavy - malt-forward, with only slight hop notes, but a slightly soapy aftertaste. Very drinkable, regardless
Way Heavy Scottish Ale Whiskey barrel aged - Yummers! Very thick, quite sweet, but the highlight is the barrel-aging. Tons of whiskey character. Very good!
L'Ambre Belgian Amber - yum! Definitely malty, strong caramel, but with that wonderful Belgian fruitiness, but not overly funky like many Belgian ales.
Wyo Toad Rye IPA - love the rye, but this was pretty strong on the citra for my taste, and pretty hazy as well
They had local bison on the menu in the form of a roast bison panini, but unfortunately they were out of the bison. I ordered a BLT, my son the French onion soup, and a side of "cheese sticks". The latter turned out to be the size of a pizza, huge! The BLT was good, with bread baked in house, and a nice tang of horseradish; served with tortilla chips, which was a bit odd, but I suppose it makes sense. The soup was a bit over-peppered, but otherwise good. The cheese sticks were divine, and (obviously) plentiful.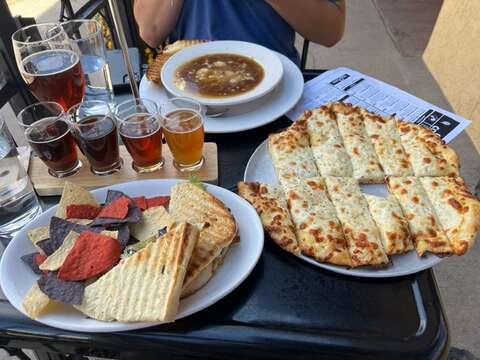 We ate outside, because the taproom was 21-and-over so my son could not sit inside, and the cafe was packed and busy with the coffee crowd (with which I always find difficult to relax). There was a repetitive acoustic guitar being played nearby by a busker (I-iii-I-iii-vi-V-IV-iii, evenly spaced, looped endlessly, single notes only, not chords, key of E), which was a bit weird, and a bit earwormy (I still have it going through my head while doing this write up while mildly buzzed...), but not actually unpleasant. I would definitely return. There were plenty of additional beers I left unexplored, so this place deserves another visit, for sure!
#BeerReview
#Travel