It's been a while since I've posted... I didn't do much brewing during the pandemic, mostly because our beer fridge was reserved for provisions, since we were doing a lot of cooking at home, and I was a bit paranoid about supply chain disruptions (still am, actually, perhaps even more now that inflation is hitting). I did do some mead that turned out OK, and a California Common that was pretty darned good, but other than that, nothing. Then I broke my ankle and fibula last year, and after three surgeries, I'm only now getting to the point where I can walk unaided, so the idea of a brew day, with the accompanying cleaning up, was not too appealing. Starting to think about brewing again now, though.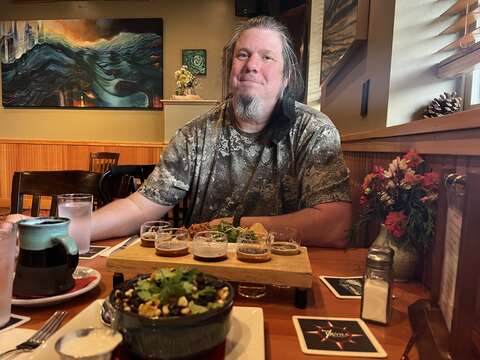 We have been doing some RVing, though. We recently went on an RV trip up the coast, and along the way, found ourselves dining at a local brewery in Coos Bay, Oregon called 7 Devils Brewing. Thought I'd do a little write-up on it, since it's been a while. The brewpub is located next to a large public parking lot, with fair-sized outdoor dining and waiting areas, and a couple inside dining areas as well. We were greeted by a couple high-school kids, presumably the early-summer help, and were seated promptly in a comfortable booth. Service was... Young? (Very) Like high school kids. Oregon-country folk music was piped over the loudspeakers, just unironically enough to taste of hipster, but not "hipster before it was cool"... Given the clientele, I suspect this music is what the young folks around here actually listen to, but who knows... The artwork and decor mirrors the music, somewhat... Not unpleasant, but definitely nouveau-rustic? I ordered a 5-beer flight, plus another on later. Each beer came in a 5-ounce serving, collected into a wooden flight tray, with the paper receipt showing which brew was which.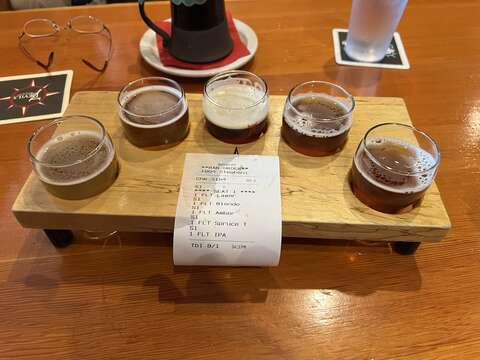 Stanton Street Lager - a good basic lager, tasted of noble hops and lager yeast. Not exciting, but a very good and drinkable lager.
Endless Summer Blonde - a very good summer blonde. Light hops, very drinkable.
Arago Amber - malty sweet nose, definite biscuit hints, not overly hopped,
Groundswell IPA - Kinda cliche, citra or mosaic, hop-heavy as an IPA should be, but nothing that different than a thousand other IPAs I've had before.
Spruce Tip Ale - Yum! Super-Yum! slightly sweet aroma and initial hit, with a wonderful spruce hit, like that aftertaste you get after munching a pine needle. Very nice! Something about the nose was intriguing, almost like maple syrup or honey, not cloying but very pleasant.
McCollough Mocha Stout - as might be expected, cacao and coffe on the nose, slightly dusty flavor, but great lingering aftertaste.
Food was serviceable. I had some kind of boneless chicken wing thing, with a "spicy chipotle" sauce that wasn't very spicy (hi, I'm Oregon, clearly we haven't met...), and my wife had an unremarkable veggie bowl. My plate came with a decent arugula salad and "Oregon's famous kettle chips" (meh, but I'm no fan of potato chips, so what do I know).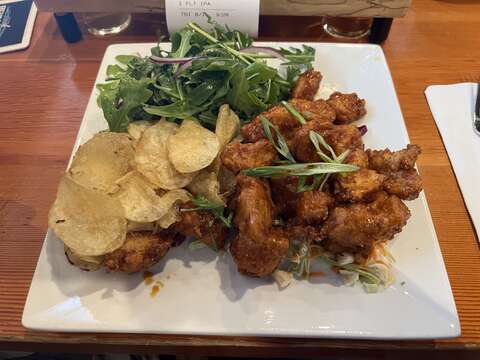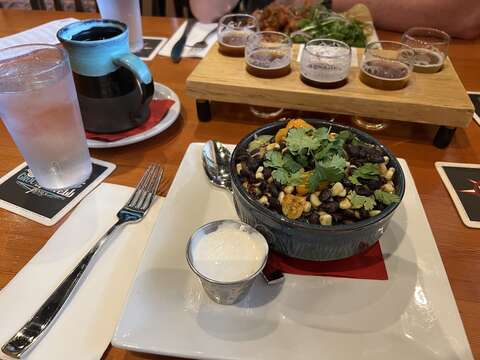 I had a yummy ginger carrot cake for desert that paired well with the mocha stout! I would have bought out their can supply of spruce tip ale, but unfortunately they had none... Someone beat me to it, I guess?
#BeerReview
#Travel