Sun, 22 Sep 2019 17:30:00 -0700
Brewery Review: 33 Acres in Vancouver BC
This was a tiny neighborhood brewery tucked away in a sleepy area of the Mount Pleasant neighborhood of Vancouver. It's a small, modern-looking space with a clean look. Quite loud from crowds. Pizza (from a permanent-looking food truck parked in front) and snacks like pretzels, jerked dried sausages, scones, etc.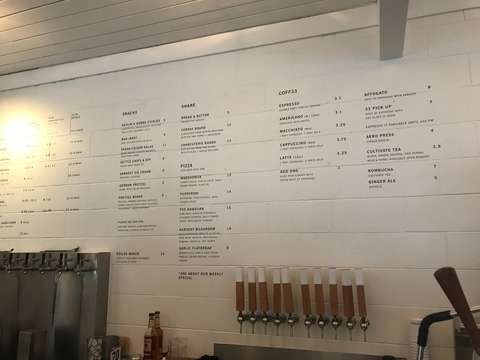 The wood-fires pizza really hit the spot after wandering around the city for a while.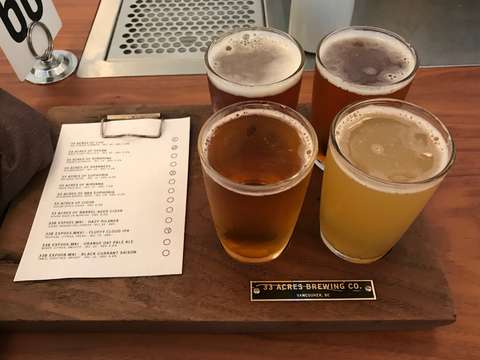 Of Life - California Common - Malt, plenty of really good malt, easy on the hops (probably NB), letting the malt really shine through.
Of Ocean - West Coast Pale Ale - malty, almost nutty, and hoppy without being overpowering. This was very good!
Of Euphoria - bourbon barrel aged Belgian tripel - yum! Strong bourbon, overpowers the Belgian styling, but good nonetheless
Fluffy Cloud - IPA - hazy, mosaic, maybe some light use of citra, not bad
They also have an espresso bar, which is a little weird, but actually kinda cool. I don't know, the space felt kinda sterile and non-welcoming, despite the noisy crowd. The beers were good, though.
#BeerReview
#Travel
kelly jacklin
Sat, 05 Oct 2019 19:12:33 -0700
FB Post Comments
My comments on Facebook were somewhat more complimentary: This one was a bit odd. Very spartan and modern inside, and noisy as heck, with a permanent-looking food truck outside making wood-fires pizza. Other than the pizza, there were only snack foods. The pizza was excellent, and the beer was very well implemented. Their beers taste very "fresh grain", very natural tasting. The California Common and West Coast Pale Ale were excellent, and very malt-forward, with definite hops to the PA, but not overmuch. I also had their hazy IPA, which didn't overuse the citra, like most do. The bourbon-barrel-aged Belgian tripel was quite excellent, although it was hard to taste the underlying tripel for the bourbon, but that's not a bad thing. They have an espresso bar as well, which was surprisingly not unpleasant to smell while drinking beer...
kelly jacklin