Steel & Oak Brewery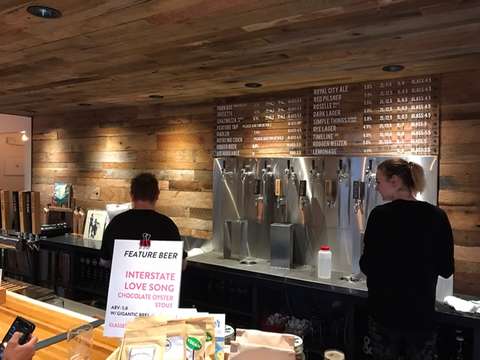 Wee neighborhood brewery in an industrial area, without its own food. This place was awesome, like night and day from the previous night! They had a food truck out front (TheJerkShack.ca), at which I got jerk chicken with sweet corn waffles, with both "the spicy sauce" (it wasn't, but it was still good!) and a sweet coconut sauce.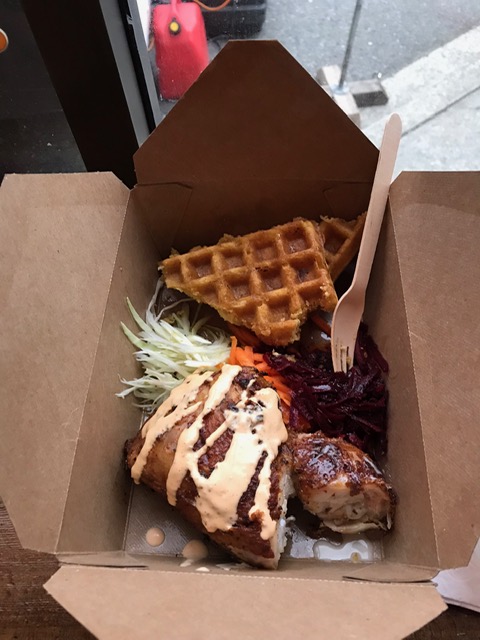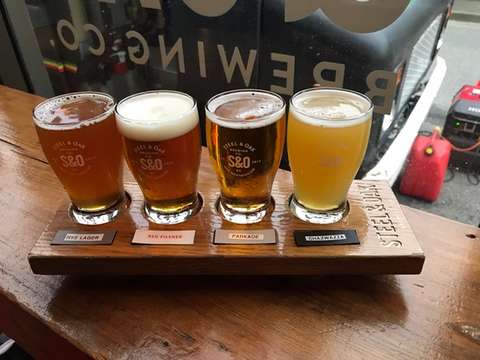 Ambience was young, loud and drunk, with the exception of the father and daughter next to me who were playing battleship and connect four... This place was awesome, Like night and day from last night! The beers were fantastic, a bit adventurous, and all pretty tastey! Very neighborhood feeling. One of the three workers gave me a tour of the brewery in the back room. She took time out during the busiest time of the evening rush to show me around. They really managed to pack a lot of working space into a small location, very impressive. The flights were on clean boards with magnetic preprinted labels stuck on for each brew, which were assembled as I ordered, making serving also easy.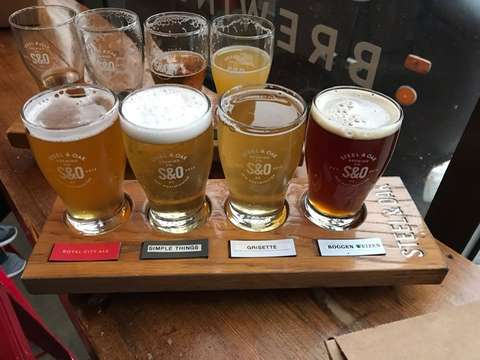 Rye Lager - very interesting! A more amber lager with definite rye bite, this is a good combo!
Red Pilsner - again, a slightly exotic twist on a Pilsner that works well, maybe some carapils?
Parkade - IPA - this was a very nice ipa! They didn't overdose with citra/mosaic/simcoe/cat-pee, and I thought I caught a hint of Nelson sauvin in the nose!
Chazzawazza - double IPA - ok, here comes the citra... this was really hazy, and tasted more like a hazy ipa or neipa. Not my favourite, but still quaffable.
Royal City Ale - this is a nice light coloured blonde ale, just the right hops, and balance of biscuity malts and hop bitterness. A strong house brew!
Simple Things - German Pilsner - it is what it says, a pretty simple German Pilsner, well-executed but not adventurous
Grisette - saison - yup, saisony with the whole coriander thing going on, nice
Roggen Weizen - I'm not familiar with the style, but this was interesting for a largely wheat beer (I'm guessing from the name) with strong red taste, and a serious banana and apple note, presumably from phenols
Nothing was bad, most were quite good! The double ipa was my least favourite, but this was more than offset by the rye lager and red Pilsner, both of which were excellent! Very cool place!
#BeerReview
#Travel